Hello I have chosen a few references for you to look at...... Have something you want to say?...please drop me an e-mail, I have purposefully left initials only, should anyone require direct contact for references please let me know.
FROM BUYERS

The US Friesian Referral Service is a self run business invented by Melissa Fischbach, who holds credentials as an Equine professional in many fields. The US Friesian Referral Service has sold over 45 Dutch registered Friesian horses since 2001, with the majority of horses bred, located and sold within the US and CANADA. This business is well run, educational and unique. A true tribute to small time American self run business. -2002 reporter

While I was searching the internet, I came across Melissa Fischbach's site that has horses from all over the United States and Holland. My original search was for a gelding, but when I came across the mares she had listed, I almost died. She had some horses in Arizona, right here, in the desert. I called her and she introduced me to the owner, Gina. Gina invited me out to her place to see them that very afternoon! I squealed like I was in 3rd grade again! OH MY GOD! They are in Litchfield Park which is only 20 minutes from my house! I got in the car and went right out there. When I arrived, I was greeted by her resident dogs (no problem, I have dogs myself) and what did I find but 4 of the most magnificent creatures on this earth with the kindest and most intelligent eyes. My heart was lost. I purchased her mare, Diana C, without a moments hesitation in November. and I went back and purchased the colt, Zoolander, out of Diana C. Zoolander is by the Grand Prix champion, Goffert 369 (now deceased).
R.E. Phoenix, Arizona

From the first time I watched the movie "LadyHawke" back in 1992, and layed my eyes on the amazing Goliath, I was captivated. Shortly after that I discovered the Friesian breed when I stumbled upon a small article in Horse Illustrated. My passion for this breed never faded or waned, however it was "only a dream" as my mother put it. No matter how many times I heard that, and how many times life refused to go the direction I wanted, which was towards the Friesians, I never gave up on "the dream". Earlier this year my 26 year old son, my only child, was killed in a tragic car accident along with his lifelong best friend. The heartache was more than I could bear. It was nearly impossible to find a reason to keep going, life was just too difficult and meaningless any more. But, the embers of my dream were still smoldering. It's incredibly ironic, and almost a little disconcerting to me, the way life goes. God took the most precious thing I had in my life and in my whole word. But, he gave me something extremely precious in return. Suddenly I found myself with a financial blessing. I had one thing in mind, and it was a priority! I wanted a foal that I could name after my son so his name would be in the official Royal Friesian studbook for all time. To me, it was the best way I could think of to honor him, especially because he knew, better than ANYone, that my ultimate dream in life was to have my own Friesian(s). So, through Melissa's wonderful website, I was able to find my beautiful Elke, who just happened to be in foal to Feike! Wow! What a great combo! And the best part about it was how close she was to me the whole time - 130 miles away! I had been searching and searching for "my" horse, but until I went on Melissa's website, I just wasn't really making progress. And, I know it's typical to breed your mare in the late spring so you can have a spring foal, but apparently this "late" baby was meant for me and here's why. My son's name was Aubrey, which starts with 'A'. As Friesian folks know, you only get one shot at certain letters of the alphabet each year when naming a foal. This year just happens to be the A, B, C year. And the fact that I wasn't ready financially or emotionally before now to buy a Friesian tells me that Elke was meant to be "my" horse, and the baby is already being called Aubrey Lieu (as in lieu of). I'm hoping for a boy of course, but a girl is okay too. The bottom line is that without Melissa's website, I wouldn't have found them and I would still be a very sad person struggling to find any hope or happiness in this often times cruel world. I know my son is with me in spirit, and I know he watches over me at all times. He's even watching after Elke and the baby, and I know this because I keep catching his usual white orb of light in photos. This has been happening since the funeral. He, and other spirits, are surrounding Elke and Aubrey Lieu, as evidenced by a photo of her in her stall the other day, and that gives me hope and confidence that everything is going to be OK. Thanks Melissa for being such an integral part in this little miracle of mine.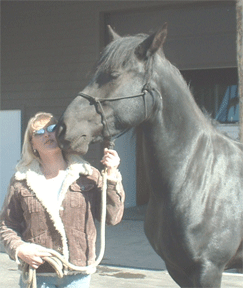 Kristy A. Utah, USA pictured with her new Friesian Elke, may 2008


Hello, I am writing this to share with everyone that Melissa's service is the "BEST".

When I started my search for the "perfect" horse, I started in Michigan, then through my internet search I found Melissa's site...oh boy! What a site! I had my pick for geldings, stallions, and mares...little did I realize my dreams would come true...Melissa made it happen. When I called her and learned that the horses were in Litchfield Park, AZ I squealed like I was 3 yrs old again! Litchfield Park is only a 20 minute drive from my house. Oh my gosh! I was so excited I called the owner immediately, only to be invited out that very afternoon to meet them! When I arrived on the property I was greeted by her resident dogs (no problem I have 4 dogs myself!) ...and then there they were...all of them! Such a sight I have never seen, behind all those lovely fringe of bangs were the softest, kindest, most intelligent eyes I had ever encountered. My heart was lost...I knew my dream had come true...FINALLY! All I can say, if you are looking for the "Perfect" horse, with all the questions that come with a purchase, then Melissa Fishbach is the answer.

All I can say at this point, is after the purchase of Diana C, I went back and purchased her colt. I think that the Friesian "CRAZINESS" has begun.
Thanks again for all your wonderful help.
- Best, Rosemary Elden
Proud Owner of Diana C and Baby Boy "Zoolander" 2008


I just wanted to thank you so much for your service, as I really don't think I would have found Thor without it. Your screening process was excellent, I have been "smitten" with Friesians for several years and really never thought I'd be able to have one. When I decided I couldn't give up riding, I began my search for a safe horse. I looked at several non-Friesians but decided I just had to try to find a Friesian which met my requirements for safety and temperament. I also preferred a gelding and needed a horse which was affordable and beyond green broke. As you know, there are not many Friesians available which meet those criteria. Thor is everything he was portrayed to be. I just LOVE him!! He is so patient and forgiving with me. Thank you again, so much for providing such an honest and reliable service and for connecting me with my dream horse.
C.C., MI

I was torn between buying a warmblood vs. a Friesian. I had talked to several Friesian sellers and found it discouraging that they wanted me to make my decision sight unseen. Then I talked to several warmblood sellers and trainers that told me never to buy a Friesian. I felt like I looked at every breed out there. I had seen Melissa's web sight before, but I decided to look again. I asked her about a sport type mare that picked up my interest and next thing I know, I was riding her. For a young green horse, she was wonderful. The owner was great and understanding and did not rush me at all. I was torn a little considering the price difference between a Friesian and a warmblood, and if dressage was meant for Friesians. To go with the same cost I could get a better trained dressage horse or buy a greener Friesian. The better trained horses had habits that I knew would never change, while I could have a clean slate with this mare. Melissa was great! She gave me websites to look up with dressage Friesians and mentioned that the sire won National USDF Prix. St. Georges level, and etc… I had realized I might never compete in fourth level, but I wanted a personality to last me forever. I went up to look at her again and after the second time I knew she was a very special horse, and I could see having her for a very long time. Thanks to Melissa and the very patient owner, I have my horse.
TW, OR

I was doubtful about using the US Friesian Referral Service, However Melissa was very patient and helpful there was no 'pressure' to buy and she answered all my questions in great detail. She ended up spending allot of time e-mailing with me to insure I was considering only horses that were suitable for what I was looking for and kindly steering me away from the young horses I was looking at. Now thanks to the US Friesian Referral Service and Melissa Fischbach I am Riding and showing my lovley quiet settled gelding at 1st level dressage and doing well. Thank you!!. J.K., MI

Melissa was a pleasure to work with. Any questions I had regarding the horses I purchased, she had an answer for me within a few hours. She is very professional and honest. She made this process very easy and executed the purchase process very quickly. I will use US Friesian Referral Service again!
K.L., MO

Thank you Melissa for helping my by educating me about bloodlines and breeding, without your willingness to share knowledge I would have made the wrong purchase out of ignorance. I am now the proud owner of a lovely Friesian mare and expecting my first foal!. H.W. NY

Melissa: Thanks so much for running your website. By just checking in on it once in a while, I was able to learn more about Friesians, and then I was lucky enough to find the horse we'd be wanting. The personal contact that you gave me, both via email and telephone, is so much appreciated. I never felt any pressure to buy, or that you were telling me what I wanted to hear instead of what should have been said. Even though you are an expert in your field, you never allowed me as an amateur to feel unappreciated. I look forward to having further contact in the future, and if you ever get out our way please stop in and see us and Sytske.
P. B., Lancaster County, PA.



I want to thank Melissa and the Friesian Referral Service for all the help I received in trying to find the perfect Friesian to suit my needs. I purchased a beautiful Friesian colt that I found on the sales list. Melissa was very helpful before the sale was final on my colt and answered questions after I brought my colt home about feeding and other Friesian topics. I would recommend the Friesian Referral service to anyone that is thinking about buying this wonderful breed! Thank you for all your help!
D. S. Tennessee

Once again the referral service helped me find the perfect addition to my Friesian family! I am now the proud owner of a beautiful mare in foal!! Thank you for all the hard work in accommodating me. If anyone is wanting a Friesian I would recommend Melissa for all your Friesian needs.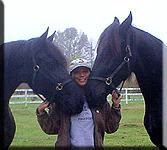 D. S. Tennessee


I got the horse of my dreams! I knew nothing about Friesians, I just knew they were beautiful and that one day I would own one. When I started looking I found that many of the breeders tended to be unkind and had no time for the "new to Friesian" people. When I found Melissa's site and service it was a god-send, not only was she very honest about the horses she was selling she also cared about the homes they were going to. Within a month I was able to find and purchase a fantastic mare at a price within my budget. Melissa helped me feel very confident with my purchase and my decision. Thank you so much!
J.S. MI


I would like to thank Melissa at Friesian Referral Service for her guidance in helping make my dream come true of owning a quality Friesian gelding. She was my first and last stop in my shopping efforts, was very knowable about horses in my area which ultimately led to my purchase. And she was always there to answer any questions I had during my learning process about the breed and how to acquire one. Wish I could afford another one! Thanks again and happy riding.
J.N. CA

Casa de Fruta is the new home of the Renaissance Pleasure Faire!After years of owning roping horses to work our livestock, I had always wanted to buy my very own "Renaissance horse" but not too many Friesians for sale exist in our area, so I researched via the Internet and came upon the website for the US Friesian Referral Service. There were so many horses to chose from, but Melissa Fischbach essentially walked me through step by step, in the search for my perfect horse. I had specific needs and she advised me accordingly, and we not only found my perfect horse indeed, but I ended up buying five more through Melissa as well. I am now the very proud owner of six of the finest horses I have ever come across ... so patient and kind. They are exactly what I had hoped for and more. I truly could not have done this without the help of Melissa and the US Friesian Referral Service. Thank you and more thank you!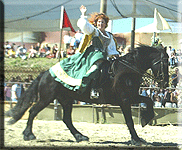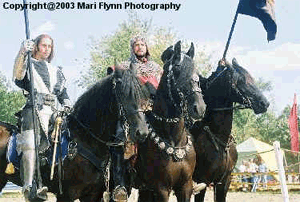 R.M. and J. Z. Sr. (Owners, Casa de Fruta, Hollister, CA)


"I am one of the lucky few who lives close enough to take full advantage of Melissa's generosity. Not only was she always willing to speak by phone and promptly answer my several e-mails but I was actually invited to her facility twice to view tapes and ride her Friesians. Even though I contacted her months before I was prepared to purchase a horse she never once became impatient with my constant questions or put undue pressure on me to buy. Now that I have finally acquired a Friesian through her website she continues to offer her advice and services without any loss of courtesy or patience. The transaction itself went very smoothly and I feel that Lucas was represented honestly and an excellent value. I would strongly recommend Melissa to anyone interested in owning a Friesian.
B. CA

"We worked with US Friesian Referral and Melissa Fischbach the purchase of our first Friesian gelding, Oliver. It was a wonderful experience, and Melissa was very prompt, informative, and patient with our many questions and concerns. Oliver arrived safely and was everything we had hoped for, he truly embodies not only the movement and athleticism we were searching for, but also the personality; we are already desperately in love with him! We are so happy we chose to work with Melissa and US Friesian Referral in finding our dream Friesian and we'd highly recommend them to anyone looking for theirs! Thanks again!
S.M., Harleysville, Pennsylvania,


I got the horse of my dreams! I knew nothing about Friesians, I just knew they were beautiful and that one day I would own one. When I started looking I found that many of the breeders tended to be unkind and had no time for the "new to Friesian" people. When I found Melissa's site and service it was a god-send, not only was she very honest about the horses she was selling she also cared about the homes they were going to. Within a month I was able to find and purchase a fantastic mare at a price within my budget. Melissa helped me feel very confident with my purchase and my decision. Thank you so much!
J.S. MI

"I purchased a horse through Melissa I had an excellent experience with this transaction. Melissa was very helpful, knowledgeable, prompt about sending information and video of the horse, and he was very accurately represented. I have come to love this horse greatly and I believe I was very lucky to find such a wonderful animal. Melissa has continued to be very supportive when I have questions or need information particular to the Friesian breed. I consider Melissa a friend and I would very definitely buy another horse through her!"
L.R., Colorado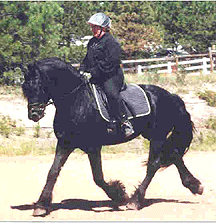 "Melissa Fischbach found us my daughter's Friesian gelding. Over the last four years he has proven to be robustly healthy, have a comic, affectionate, and very cooperative temperament, and a superior intelligence and work ethic. He is now training second and beginning third level dressage and has won or placed in every test they've ridden and garnered three eighths in the last one. Melissa knows her horses!."
A.B., California

My new horse is wonderful. His training is coming along very well. He is sooooo affectionate, and absolutely beautiful. I ride him every day. Thank you so much for helping me find him.
K.A., Arkansas

Melissa Fischbach was incredibly helpful in my first purchase of a Friesian (or any horse, for that matter) from the internet. I feel very lucky that the horse I wanted was available through her site. She was patient, honest, and thorough - even through my silliest of questions (and there were many). I really couldn't and wouldn't have made the purchase without her help. Thanks Melissa, from both myself, and my new Friesian friend!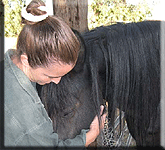 Sincerely, G. E., Arizona

Melissa and her service have been invaluable to me She helped me with all my questions and found me a wonderful horse, exaclty to my specifations. The purchase and transactions all went very smoothly. Thank you so much for all your help!
B.J. NY

"Zeus is working out wonderfully. He is truly as special as advertised. Not only is he "good with other horses," but he has really bonded with our other Friesian gelding, and the two are now inseparable. Thanks again."
HVF, Connecticut

Great service, so easy to use, its one stop Friesian shopping! I found my Friesian filly here!
M.D., California

I just purchased my first Friesian. Melissa made the experience easy and enjoyable. She was extremely patient with all my questions, showed me many videos and accomodated my schedule even though she was not feeling well at the time. I found her to be honest, trustworthy, knowledgeable and genuinely concerned with matching me with the right horse. Melissa is a true professional and a joy to work with. I will be using her service again in the future.
C.T., California

Melissa helped me find Bennett, the horse of my dreams. Her honesty and knowledge of the breed and those who represent it is so admirable. The entire process was enjoyable and exciting. She hooked me up!"
K.H, CA

Melissa hooked me up with the friesian of my dreams! Within a matter of hours she connected me with the seller and I'm finally a friesian owner. Her website has so much information on the breed that I didn't even have to ask any questions. I feel confident that if I ever run into an unfamiliar situation regarding my friesian, I know I can count on Melissa for sound advice.
M.P. Illinois


CLICK HERE TO GO BACK