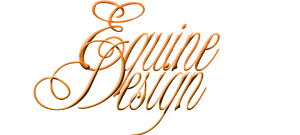 EQUINE DESIGN'S artist and photographer, Melissa Fischbach has been producing fine custom graphics since 1988. She did illistrations for RIDE! Magazine for a decade and donated artwork for the California Dressage Society's OMNIBUS for many years as well. Melissa's artwork has been published in these magazines: Oakland's Pet Companion, Equine, The Friesian, Young Equestrian, The Whole Horse Journal and Horse of Kings. Her oil paintings have been featured in The Andalusian, and her photographs have been in Horse Illistrated, Dressage Today, The Andlausian, The Friesian and The Equine Journal. Melissa has won many awards for her fine art, photography and Logo design.
Melissa will cheerfully design or host your
RANCH/BUSINESS LOGOS
PHOTOGRAPH SESSIONS
ADVERTIZMENTS
PORTRAITS
WEBSITES
Allow Equine Design to create something special for you.
WANT TO SEE SAMPLES OF ARTWORK?
<======== PLEASE CLICK ANY LINK ON THE LEFT to go to that page of samples

E-mail Equine Design






Samples shown my not be reproduced in any form and are copyrighted by the owners and Equine Design
Melissa Fischbach of Equine Design offers affordable WEBSITE DESIGN
Aside from this website one may view our other designed sites, by CLICKING on any link site below.

---