ABOUT CLASSICAL DRESSAGE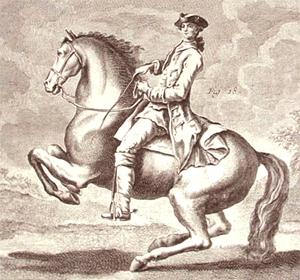 DIDEROT 1769
"In this section on my website, I wanted to convey, in a short text, what the essence of the kind of horsemanship I enjoy IS. I quickly found that I was at a loss as to how to put into words the complex thoughts, principles and historical elements which form the ideas and ideals of today's Classical Dressage. My teacher, Dr. C. Kristen von Stetten, when asked, graciously offered to share his thoughts and insights regarding Classical Dressage. As more topics are discussed and questioned, further pages to this text will be added. Please explore and enjoy the text he has presented." ~ Melissa

DRESSAGE - CLASSICAL RIDING - THE CONTROVERSY OF THE "ROMANIC" (FRENCH, PORTUGUESE ETC.) VS. THE GERMANIC SCHOOL" -RIDING ACCORDING TO THE PRINCIPLES OF "LIGHTNESS" - "BAROQUE" HORSES ETC
COPYRIGHTED 2005 DR. Christian Kristen Von Stetten


We hear of the notions in this title quite frequently, now that they have become part of mainstream riding discourse. Yet, what exactly is meant by each of these concepts, what equestrian practices they refer to, is not always well understood. And when one attempts to grasp what the overlap, or the significant differences between, and particularities of, these ideas and ways-of-doing might be, it quickly turns out that the subject matter is of considerable complexity.

Only with arduous study is it possible to acquire a solid basis of theoretical knowledge of these varieties of horsemanship, and only with accumulated practical experience in them, carried to the higher degrees of competence, will one gain real insightful understanding of these ideas and concepts.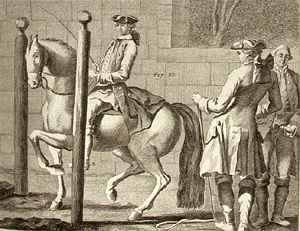 DIDEROT 1769


Unfortunately, these notions are also the subject of quarrelsome, jargon-laden discussions, of construed or factual we-vs.-they demarcations (and the attendant intolerances). This doesn't at all foster the so very essential studiousness. Much "explaining" goes on, but one finds that all too often the clarity of understanding is inversely proportional to the degree of wordiness; much well-intentioned talk stands in crass juxtaposition to the reality of practice under saddle.

Even a modestly detailed clarification of the major elements which significantly contributed to this horsemansip's genesis and to the shaping of its modern-day form is beyond the scope of this text. The horsemanship we speak about here is, as all others, not a "pure" and monolithic form - the historical processes of inventing, eliminating, combining, forgetting, remembering a prodigious variety of theories, ideals, of means and ways of doing, have been much too intricate. But as we know from equestrian practice, progress can also be made through the use of "intuitive" methods, of "images". We shall therefore use the stylistic means of short, rather distinct "thought bites", to depict some of the significant elements of this horsemanship and we hope that the reader will find the resulting COLLAGE a means for "getting a feel" for the subject matters at hand.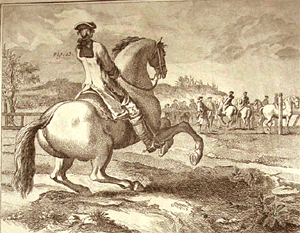 DIDEROT 1769


CLICK ANY LINK BELOW TO READ MORE FROM OUR 'COLLAGE' OF INFORMATION

1) THIS HORSEMANSHIP...

Do you have a classical dressage or technical riding question you would like to see addressed here? Please let use know. Interesting suitable questions may be answered and discussed......